Here you can keep up to date with my books, my short stories, my appearances, and new developments in my life and career (if there aren't any, I'll make some up, just to keep things interesting).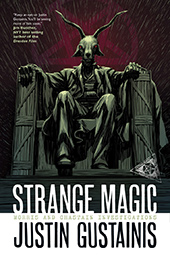 Strange Days, Indeed
Strange Magic, the new Morris and Chastain novella, was recently released — in both Mobi and ePub format. What's this one about? I'm so glad you asked...

The war against terrorism has bedeviled America's leaders for decades. Now a new threat — the Caliphate — has arisen in the Middle East, and its ruthless plans for conquest pose a greater threat than al Qaeda ever did. U.S. officials are stymied — how to thwart these fanatics without sending American troops into yet another Middle Eastern quagmire?
One high-level official thinks he has found the ultimate counter-weapon: demons.
Ted Burnett, head of the CIA's most secret division, has put in motion a plan to summon the denizens of Hell into our world, control them, and send them against America's enemies.
The plan is insane. Ted Burnett is insane. But no one with the power to stop him is even aware that the plot exists — except for occult investigator Quincey Morris and his partner, white witch LIbby Chastain.
Morris and Chastain realize that no humans can hope to control an army of demons — for long. If Burnett summons the Damned into this world, they will not depart until all of humanity has been laid waste. He has to be stopped. But with CIA-trained killers at his disposal, Ted Burnett is prepared to eliminate anyone who would interfere with his plan to weaponize the hosts of Hell.
But Morris and Chastain are not without resources of their own, including two occult-savvy FBI agents, resurrected assassin Mal Peters, and LIbby's sometime lover Ashley — who also happens to be a demon herself.

You can purchase this gripping urban fantasy tale at Amazon.com.
But wait — maybe you shouldn't.
I'll send a free copy of Strange Magic, in either format, to the first ten people who write me to request one. All I ask in return is an honest review on Amazon and anyplace else you normally post reviews (such as Goodreads).
This offer is available for a limited time only (as they say on TV) — so request your free copy now, from justingustainis@yahoo.com.
Things that Go Bump.
My short story "Bump in the Night" appears in the just-published anthology from Emby Press,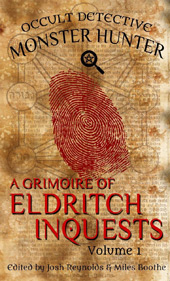 Occult Detective / Monster Hunter: A Grimoire of Eldritch Inquests. Stan Markowski (of the "Haunted Scranton" novels) and his vampire partner Karl Renfer investigate what seems to be a case of a wicked poltergeist haunting a family — but in Haunted Scranton, things are not always what they seem.
You can buy it here — and you should. Available at Amazon.com..
Just When You Thought It Was Safe to Go Back to the Bookstore...
I recently closed a deal with Edge Publications (the same folks who brought you the Those Who Fight Monsters anthology a few years ago) to put out a collection of my short stories, to be entitled The Devil Will Come — and anybody who thinks that title sounds like porn for Satanists has a mind that's as dirty as ... well, mine. The book will be out, in both paper and digital versions, sometime next year, whereupon I will start nagging you all to buy it. BTW, have you ever wondered whether there are any dyslexic devil worshippers out there who've mistakenly sold their souls to Santa? No, me neither.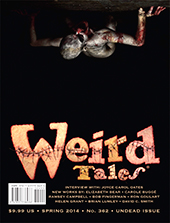 H. P. Lovecraft, Robert E. Howard ... and me?
The Spring, 2014 issue of Weird Tales magazine (#362, the "Undead Issue") contains my story, "Until I Come Again." If you've read down below, you know that the story first appeared a couple of years ago, in the Night Terrors II anthology. The folks at WT knew that — and decided to publish the story, anyway, bless them. Weird Tales is the oldest magazine of speculative fiction in the U.S., having been published, off and on, since 1923. They were the first to publish such luminaries as Lovecraft (of Cthulhu Mythos fame) and Howard (creator of Conan the Barbarian), and later added to their pages the work of guys like Ray Bradbury, Manly Wade Wellman, and Fritz Liever. And now they've got me — how freakin' cool is that?
Better than Angry Birds
If you have some time to waste, and any interest at all in popular culture, then the "TV Tropes" (tvtropes.org) website is a treasure trove. This huge, wiki-written site discusses all aspects of pop culture, not just TV. And somebody (I don't know who, but it wasn't me) has put together a very detailed page dedicated to the Morris and Chastain Investigations, at tvtropes.org.. Give it a look, if you're a fan of Quincey and Libby, or even if you're not. And once you see what TV Tropes is all about, I think you'll be spending a lot of time there in the future.
The Return of Sergeant Stan.
Known Devil, the third novel in my "Haunted Scranton" series, was published on February 28th.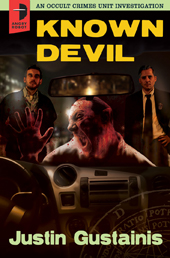 This time out, things are looking pretty bad in my "alternative" Scranton: for the first time, a street drug has proven addictive to supernaturals, with a resulting crime wave as the creatures of the night struggle to get drug money. The first Stan and Karl learn about this is when a couple of elves stick up Jerry's Diner while they are inside on their coffee break. Further, the local vampire Mafia "family" is under attack from a group of interlopers who seek to take over, resulting in gun battles and car bombs in the city streets. And then there's the Patriot Party, a group of proto-fascists who seek to gain control of this city government in the forthcoming election. Stan Markowski has his hands full—and he doesn't even know who the real enemy is yet.
Available at better bookstores everywhere, or you can order it from Amazon.com..
Two Novellas Are Better than One
My two recent Morris and Chastain novellas, initially available only as separate ebooks, have now been published in print form (and are also available as a single-volume ebook as well).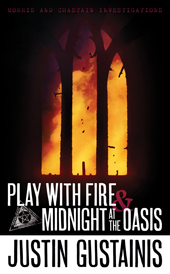 In Play with Fire, occult investigator Quincey Morris and his partner, "white" witch Libby Chastain, investigate a series of church burnings occurring across America. What seems at first like random hatred is found to be something far more sinister; the burnings are part of a black magic ritual which, if completed, can bring about the end of the world. Midnight at the Oasis finds a group of terrorists who have captured an actual jinn—a supernatural creature of immense power. That power will be loosed on America, unless Libby and Quincey can stop them first. Now available at Amazon.com.
What You Don't See Can Kill You.
Evil Dark, the second book in the "Haunted Scranton" series, was released in April ('12).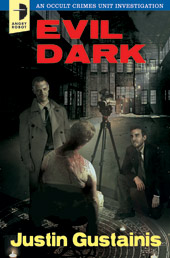 This time out, Detective Sgt. Stan Markowski of the Occult Crimes Unit is faced with a series of supernatural "snuff films." On each of these horific DVDs, which are not sold at Wal-Mart, a demon is summoned and ordered to "possess" a kidnapped man, who is then compelled by the demonic presence to torture and murder another innocent victim — all of it captured on camera. If that wasn't enough to give Stan ulcers on his ulcers, it appears that someone in Scranton is kidnapping witches and burning them alive. Then there's that seductive female FBI agent, who may or may not be what she seems. One way or another, Stan and his partner Karl have got their hands full.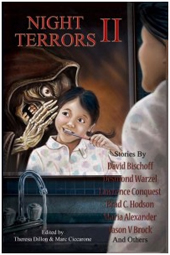 Be afraid. Be very afraid.
My Story "Until I Come Again" has been published in the anthology Night Terrors II, which was published in January. Getting accepted (and paid) is always gratifying, but a little more so in this case, since more than 300 stories were submitted for the 28 available slots. This is not, IMHO, even remotely shabby. Not even a little, tiny bit. Here's the cover.
Back Your Shit Up, Man.
I've been shopping a story of mine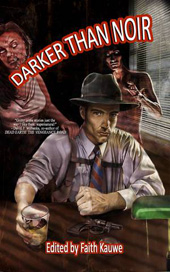 called "Soul Survivor" around for years now — and finally sold it! The editors of this anthology wanted about 300 words added (how rare is that — the editor wanted it longer ) and now my story "Backup Man," about an exorcism that goes very, very wrong, will appear in the forthcoming collection of paranormal detective stories, Darker Than Noir. Look for it later this year. Here's the cover.
Sympathy? Hell, no!
Sympathy for the Devil the third book in the "Morris/Chastain Investigations" series, will be released by Solaris Books on July 26th (August 2nd in the UK), to great acclaim. I hope.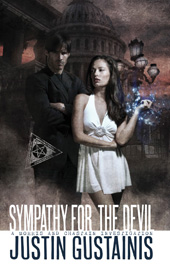 It's the story of Senator Howard Stark, candidate for President of the United States and unwilling host to Sargatanas, one of the most powerful demons in Hell. Stark was secretly possessed as part of Hell's plan to put a demon in the White House who will use the powers of the Presidency to destroy the world (they don't like us much, down there in Hell). Quincey Morris and Libby Chastain have stumbled across this (literally) diabolical plot, and are determined to get the demon expelled from Stark by exorcism. All that stands between them and success are about 500 dedicated agednts of the U.S. Secret Service, and all the powers of Hell itself.
In order to increase the chances for that great acclaim I mentioned, I've got several things going on (apart from the usual online interviews and guest blogs). One is this book trailer, produced by my web guru, digital media genius Tim Clukey:

Another publicity ploy is the Easter Egg contest, discussed at the top of the page. And then there's this website that's been spotted at www.starkforamerica.com. It appears to be an actual campaign site for a rather sinister presidential candidate named Howard Stark. But since Stark is a fictional character, there can't really be a guy by that name running as Hell's candidate for Presdident — can there? It even has a link where you can purchase some rather ... disturbing campaign memorabilia. What up with that?
The Mean Streats of Scranton are Haunted Now.
Also to be released on July 26th by Angry Robot Books is Hard Spell, the first of a planned series of novels set in an "alternative universe" Scranton, PA. In this world, supernatural creatures really exist, and everybody knows it. "Supes" are citizens now, which means they have to obey the law. When they don't, Detective Sg. Stan Markowski is the one they call. He works the Occult Crimes Unit of the Scranton Police Department, and he'd rather bust a "supe" than eat dinner.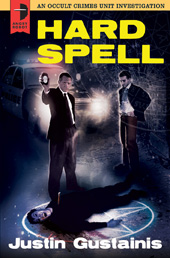 Early reviews have been ... well, I hesitate to use words like "spectacular," but see for yourself:
"You can't go wrong here. Pure genius from a writer who knows what he's doing."
—The Founding Fields
"This book combines nail-biting suspense and contemporary forensic science with a magical element full of twists resulting in the creation of a story that is totally captivating and difficult to put down."
—The Blog Farm
"Hard Spell is a fairly dark and gritty book. It has its gruesome moments, along with some funny lines. I love books that combine horror and humor."
—Badass Book Reviews
Well, you get the idea... The folks at Angry Robot Books, bless their hearts, will even let you read the first fifty pages for free. Just go there: Angry Robot sampler website. In order to publicize this "heartbreaking work of staggering genius" (okay, nobody has called it that, but someone should, dammit), I put together a team to produce what is clearly the Best Book Trailer Ever. The narration is by professional voice artist Michael Ciula; the kinetic typography (you'll know what that means when you see it) is courtesy of RIT graphic design student Jon Gerlach; the estimable Tim Clukey did the music and sound effects, and yours truly wrote the script. Does this thing freakin' rock? See for yourself.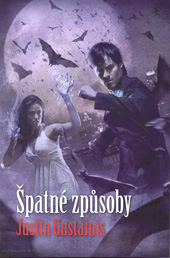 Czech, please!
As I told you a while back, Evil Ways was sold to Polaris Books in the Czech Republic, the same guys who published the Czech edition of Black Magic Woman. Although I'm still trying to get my hands on one copy of each book (for my "Collected Words of Me" shelf in my office), at least I have the cover image to show you. Same Chris McGrath art as the US/UK edition -- but now, if anybody asks you how to say "Evil Ways" in Czech, you won't be stuck for an answer.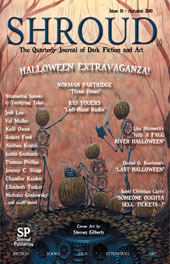 No Longer "Shrouded" in Mystery.
The long-awaited (well, by me) Halloween issue of Shroud magazine is out, and here's the cover. If you want to read my story therein, "Waiting for G.P." (and you really should, you know), you can order the mag via Amazon, or directly from the publisher. And remember: every time a copy is sold, somewhere a demon gets his horns.
Who You Gonna Call?
The anthology I edited, Those Who Fight Monsters: Tales of Occult Detectives was released by Edge Publications on March 1st (2011).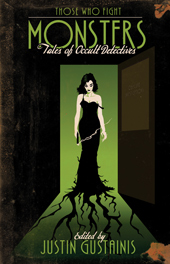 However, due to distribution problems, the book wasn't available in stores outside Canada (or online) until April. I haven't seen any sales numbers, but the reviews have been good. Like these, for instance:
"Awesome author selection with stories bursting with paranormal goodness. There are some real treasures in this one..."
—amberkatze.blogspot
"A truly excellent collection."
—Jill M. Smith, Romantic Times Magazine
"Tasty bites of dark, gritty urban fantasy."
—From the Shadows
"The line up is excellent and the stories are perfect little tastes to whet the appetite for the full series."
—All Things Urban Fantasy
She Likes Me! She Really Likes Me!
Jeez, nobody tells me anything. I just learned that uber-anthologist Ellen Datlow has given "Honorable Mention" to my story "Meat Wagon" in her collection Best Horror of the Year, 2008. The story originally appeared in Allen Koszowski's magazine Inhuman.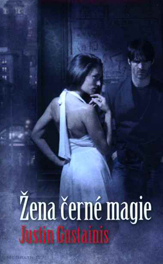 Czech and double-Czech.
I mentioned a while ago that Black Magic Woman (the first Quincey/Libby book) had the translation rights sold to a Czech publisher. Well, it's in print -- and if you've ever wondered how to say "Black Magic Woman" in Czech, wonder no more:

I've since learned that translation rights to Evil Ways have been sold to the same publisher. For more lessons in the Czech language, stay tuned!

Patron of the Arts? Moi?
There's a guy named Lew Lehrman (find his work at www.hauntedstudio.com) who specializes in paintings of haunted houses.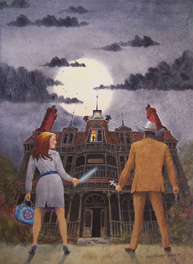 Given my interest in all things spooky, I'm a big fan of his. Since he accepts commissions, I had the idea of asking him to create a haunted house painting that would include Libby and Quincey. After a lot of consultation with me, both before and during the process, he produced this, much to my delight.
We call this little number "Quincey and Libby Get Ready for Work," and it occupies a prominent position right here, in the Night Gallery.
Okay, it hangs on the wall of my living room -- I was channeling Rod Serling for a minute, there. But I still think it is waaay cool.
Next, A Guest Spot on True Blood?
In a recent blog entry, Charlaine Harris (creator of the Sookie Stackhouse character now featured on HBO's True Blood), had this to say about a recently published novel:
"I really enjoyed Justin Gustainis's Black Magic Woman, so I was pleased to get a copy of Evil Ways. Here's the thing—I think Evil Ways is much better, and Black Magic Woman was a good book. (I've got to comment that I think the cover is silly, but that's just me.) Once again, investigator Quincey Morris teams with witch Libby Chastain to track down the killer of several white witches. The trail leads right to Walter Grobius, a billionaire (no one's content to be a millionaire any more) who's very unwisely hired a black witch to prolong his miserable life. The black witch, in turn, unwisely believes he can handle the powers he's raising.
Morris and Chastain are lucky to have killer Hannah Widmark on their side. They're also lucky that greed overwhelms good sense. This is a fast-paced book full of adventure, some of it very unpleasant and genuinely frightening."
Switching to High-Octane
Look what Lilith Saintcrow, author of the "Dante Valentine" series (that began with Working for the Devil) and the "Jill Kismet" series (Night Shift, Hunter's Prayer), among others had to say about Evil Ways:
"If you're looking for a great urban fantasy read with enough in-jokes and high-octane action (not to mention good solid research and some damn fine writing and plotting) to make any sane reader scream with joy...look, I can't make it any plainer, just read Evil Ways. Yet another book from Gustainis that I wish I'd written!"
Is she a sweetheart, or what?
Getting into the Mushrooms, again
I'm glad to say that Evil Ways has received mostly good reviews, such as this one at "Literary Escapism" and this, at "Merry Genre Go Round".
There was one blogger who seemed to be of the opinion that I was a degenerate, but if you think I'm giving you the link to that one, you've been eating the wrong kind of mushrooms, bunkie.
Anyway, degenerates are people, too.
No Blog Jam Here
I've also done some guest blogging (yes, good friends, I have committed "blog"). It's hard to write with your tongue in your cheek, but I managed to do just that for this little essay on "The Future of Urban Fantasy" at Jeri Smith-Ready's place.
Then I expounded (tongue still firmly in place) on the characteristics of urban fantasy over at "Bitten by Books".
Finally, Amberkatze, who was one of my first (and still biggest) European fans, let me discuss why it's no sweat coming up with villains in urban fantasy. As I wrote there, "Evil Makes It Easy".
Wired with a Six-Shooter
I even did some interviews, which also allowed fans to make comments and ask questions of my humble self. And I am so pleased to report that not once was I asked "Where do you get your ideas?" If you've read this far, you're probably a glutton for punishment anyway, so subject yourself to my Q-and-As at Marta Acost's "Vampire Wire" and if you still haven't had enough, check out a short one at "Urban Fantasy Fans".
How do you say, "I couldn't put it down" in Spanish?
The Spanish edition of Black Magic Woman is out. Apparently, the first cover that I saw (on the left) was changed at the last minute (to the version on the right). I don't read Spanish, so if this translation picks up any bad reviews, I'll never know. Sometimes ignorance really is bliss.
La Maldicion de la Bruja Negra
1st cover


2nd cover
---
Black Magic Woman Book Description
Occult investigator Quincey Morris and his "consultant", white witch Libby Chastain, are hired to free a family from a deadly curse that appears to date back to the Salem witch trials. Fraught with danger, the trail finds them stalking the mysterious occult underworlds of Boston, San Francisco, New Orleans, and New York, searching out the root of the curse. After surviving a seris of terrifying attempts on their lives, the two find themselves drawn inexorably towards Salem itself, the very heart of darkness.
"Dennis Wheatley meets Kim Newman! Voodoo and Muti and old Salem witches! Shout outs to Jack Crow and Harry D'Amour! I Loved it!
Justin Gustainis is a first class writer. He's smart and he's fun. He moves quickly and he takes corners at speed. Every time you think you know where he's going, he makes a point of going somewhere else. His characters are sharp and vivid, his dialogue crackles with wit and tension, and when it comes to the scarier corners of the magical underworld, he know his stuff.
This is a novel that's packed with story and engaging characters and I can't wait to read the next one."
— SIMON R. GREEN, author of A Walk on the Nightside
"Family vendettas abound in an intriguing tale that pits a descendant of Bram Stoker's Quincey Morris against two kinds of dark magic—an inherited curse and Zulu fetish witchcraft. As much as I enjoy walking in a Wiccan wonderland, stories that explore other witchcraft traditions are a treat. This one's a real page-turner and a solid start to a new paranormal detective series."
—ELAINE CUNNINGHAM, author of Shadow in the Darkness
and Shadows in the Starlight

Black Magic Woman
Available Now

The Hades Project
Available Now
"...provided a lot of entertainment. A very good book, and I'll look forward to reading another one in the series."
—Charlaine Harris, author of Dead Until Dark and Ice Cold Grave
"Black Magic Woman is a heady witch's brew of extraordinary characters, ruthless spells and take-no-prisoners prose ... Gustainis combines a rogue's gallery of villans (and heroes) with great action and epic storytelling. I couldn't put it down ... and I didn't want it to end."
—Rachel Caine, author of "Weather Warden" and "Morganville Vampires" series
"Black, white, and red all over? That would be a whole mess of magic with a few human sacrifices thrown in for good measure. Black Magic Woman is a fantasy, a mystery, and one helluva compulsive read."
—Rob Thurman, author of Nightlife and Moonshine
"Urban fantasy lovers who enjoy the works of Km Harrison, Tanya Huff and Jim Butcher will thoroughly appreciate Black Magic Woman. Justin Gustainis must own a magic word processor..."
—Harriet Klausner, Speculative Fiction Reviews
"Smart, sexy, and supernatural, Black Magic Woman goes for the throat and doesn't let up until the very last page. I wish I'd written this book; it's a hell of a ride."
—Lilith Saintcrow, author of Working for the Devil and To Hell and Back
"Dracula, voodoo, the Salem Witch Trials. Gustainis mixes all of these into a thrilling, addictive brew. A great way to spend a page-turning night!"
—Chris Marie Green, author of Night Rising and Midnight Reign
"...recalls Mulder and Scully of The X-Files"
—Publisher Weekly
"A taut, well-written thriller."
—Jeanne C. Stein, author of Blood Drive and The Watcher
"Black Magic Woman is probably one of the best books by an author new to the urban/dark fantasy genre that I have read in a long time... Fans of the Dresden Files and early Anita Blake should check this book out."
—Urban Fantasy Reader.com
"Dark and delightfully disturbing. The Hades Project is a story that literally burns through the pages. Highly Recommended."
—M.R. SELLERS, author of the "Rowant Gant Investigations" Series
"As dark, disturbing and dangerous as anything by Koontz, Justin Gustainis' The Hades Project is tightly crafted, explosive and entertaining. You'll read it fast, but it may haunt your dreams forever. One of the best horror novels I have read this year."
—PHILLIP TOMASSO III, author of Adverse Impact and Johnny Blade

Evil Ways
Available Now
---
Contact author Justin Gustainis
at justingustainis@yahoo.com